None of CNCF's work is possible without our amazing supporters who have baked cakes, walked miles, climbed mountains, hosted supper clubs, done odd jobs and danced their way to make a difference to the life of a child!
START YOUR FUNDRAISING CAMPAIGN TODAY
Join our community of individuals from around the world
who are helping to make a difference.
Your support changes lives.
The CNCF Fundraising Impact!
One Person Can Make A Difference. You Can Make A Difference.
Here's what your support can do.

Provides a child with
an education for a month

Provides monthly life-saving medicine for an ill orphaned or abandoned child

Provides psychological counselling sessions for a child suffering from trauma

Buys text books, uniform
and stationary for 4 students

Supports an entire family with food for a whole month

Provides winter blankets, clothes and food supplies for a whole family in need
Featured Fundraisers
CNCF's Inspiring Champions Of Children
Here are just some of the incredible supporters of all ages, nationalities and backgrounds who have fundraised for CNCF to help make a difference to the lives of those who need it most.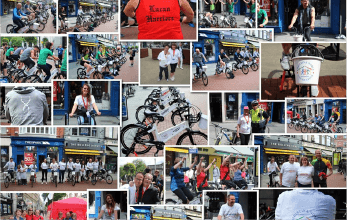 The wonderful people of Ireland cycled the distance from Dublin to Vietnam in their annual Cyclathon on Dublin's famous Grafton Street to raise funds for CNCF. Christina Noble herself joined the crowds to cheer on those participating. To all those involved, thank you for being part of a unique and very special day to raise funds for the Sunshine Children.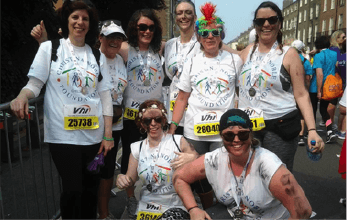 These inspiring ladies from Dublin, Ireland put their running shoes on and ran the VHI Women's mini marathon to raise funds for CNCF. Rain or shine, fast or slow, running a marathon takes energy, determination and passion and we are incredibly grateful for such individuals who take on such a challenge to benefit those who need it most.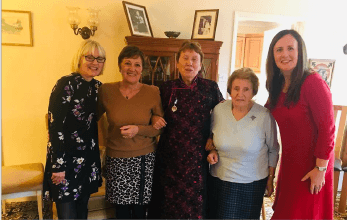 These wonderful ladies from Robertsbridge, England have sold their homemade mince pies, cakes, jams and bric-a-brac every year for the past 13 years in aid of raising funds for CNCF. We are honoured and grateful for such loyal dedication to CNCF and the children it serves, thank you ladies, without indiviudals like yourselves, none of CNCF's work is possible.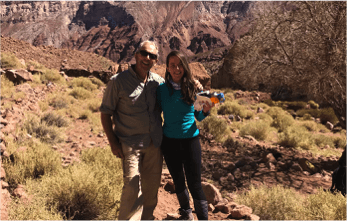 This inspirational father and daughter duo decided to trek the world's driest desert, Chile's Atacama Desert, in aid of raising funds for CNCF. The Atacama Desert is a desert plateau in South America covering a 1000-km strip of land on the Pacific coast, west of the Andes mountains. With scorching days and freezing nights of -15, CNCF could not be prouder and more grateful for their incredible achievement!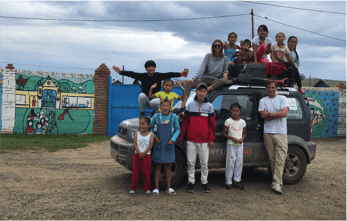 1 car, 2 people, 22 countries. Team Serendipity successfully completed the 2018 Mongol Rally in aid of CNCF. The Mongol Rally is one of the greatest motoring adventures on the planet consisting of a 10,000 mile journey across mountains, deserts and challenging roads. Our inspiring team pictured here being welcomed by the children and staff at CNCF's Blue Skies Ger Village, Ulaanbaatar.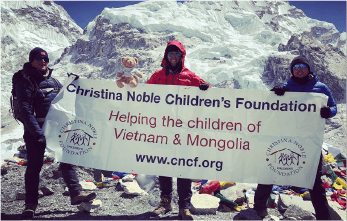 Harry, Guy and Alex, three life-long friends, from London, England decided to travel to Nepal to conquer Everest Base Camp at an incredible 5,380m height all in aid of raising funds for CNCF. The friends battled challenging terrains, endured harsh weather and tackled gruelling long distances to successfully reach their final destination. Thank you team Everest, the children still talk of their CNCF explorers!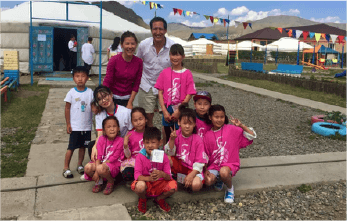 Despite our inspiring warrior Jeremy Corner breaking his wrist, Jeremy battled on against all odds to successfully drive the Gobi Desert by motorbike. Only through sheer determination to reach his final destination, CNCFs Blue Skies Ger Village in Mongolia's capital city, Ulaanbaatar, did Jeremy make it despite his injury to meet some of the children he directly supported through his efforts.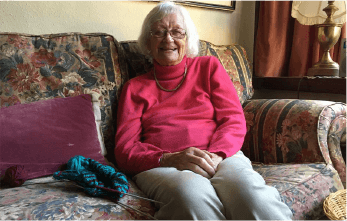 Our incredible 96 year-old Mrs. Tucker pictured here has been sending CNCF hand knitted wool clothes for our children in Mongolia for many years. The winter in Mongolia is one of the harshest imaginable making Ulaanbaatar the coldest capital city in the world with temperatures dropping to as low as -40. Thank you Mrs. Tucker for your years of hard work to keep our children warm.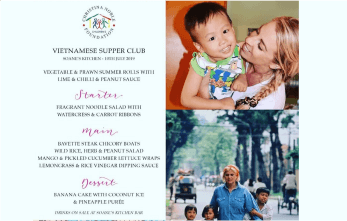 In 2019 Sabrina arrived to volunteer at CNCF's Sunshine Social & Medical Centre in Ho Chi Minh City, Vietnam and so her love for the Foundation begun. This year she held an inspiring Vietnamese themed supper club in London, England in order to help raise funds for the Children she worked directly with at the Centre. Thank you our cherished volunteer, come back and see us soon. 
There are hundreds of websites that can help you to find a fundraising idea that suits you like, 101+
Fundraising Ideas For Nonprofits www.causevox.com/fundraising-ideas.
Still stuck for ideas? Contact us today!
We are happy to support you with your event in any way we can.
We can provide a range of materials and resources to help you plan and
promote your CNCF fundraiser.
Contact us via the form below for more information: